I've wanted a new pair of black flats for work this spring/summer and had been debating on exactly what I wanted. Especially given the fact that I know I'll have some swelling at the end and wearing flip flops isn't exactly an option in my office. Spurred by the fact that my mom gave my kids new Crocs for Valentine's Day (they were THRILLED!), I decided to check out the site because I'd seen some very cute non-Croc looking shoes on there recently. So after some deliberation, I ended up buying these: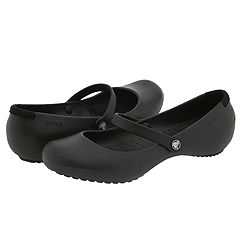 They're the "Alice" variety and I just can't wait until they come! While I think traditional Crocs are adorable on kids, I just don't have any interest in a pair like that for myself. Plus, I don't think I could get away with them for work. I just think these are the cutest thing and based on what I've heard and experienced the type of material they're made out of, they won't end up stinking like all your other shoes do when you wear them w/o socks.
So I'm hoping these will get me through the warmer weeks of my pregnancy (and then some). I know that
Katie
highly recommended the
Cleo
version last summer at the end of her pregnancy with Lucy, so I'm hoping I'll be as happy with my Alices as she was with hers!