Yes, that means YOU!!
(Pointing finger at you lurkers out there!)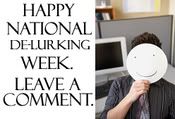 So if you've never left me a comment before, feel free to do so. I allow "anonymous" comments, so you don't have to be a blogger/google member to leave ME a comment!!!
I don't expect anything exciting, just a "HI!" to let me know you've been reading.