So you'll now begin seeing the appearance of watermarks on the pictures in my blog. Why you ask? Well, the reason being that any picture that is posted on the internet can easily be "lifted" and posted somewhere else. While I don't put any real identifying info on my blog, I like the idea of putting a watermark on my photos so if they are reposted anywhere else, my blog is noted on it. Not that you can't crop it out or a really skilled photo editor couldn't take them out, but that is a lot more effort.
Sunday, Sara and Zoe came over for a visit. (Mark was busy at home working on their basement in preparations for baby boy who is arriving in June.) Zoe is just over 3 years old now and she and Caroline had a pretty good time. They played and fought over some toys, but I guess that is to be expected when you have 2 toddler girls. Zoe just adores Bryce and can't wait to hold "her baby" next month.
Here are some pics from the day: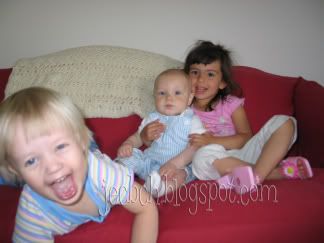 And here are some adorable shots of my Bryce!
His 8 month picture: